PRODUCT DESCRIPTIONS
CLICK HERE for Order Online Page
CLICK HERE for Order by Mail Page

---
Oldies But Goodies CD - Shari Sloane sings with kids
More Details
---
School Is Cool CD - Shari Sloane sings with kids
More Details
---
'Get Ready' CD - Shari Sloane sings with the 'Get Ready' chorus of kids to encourage children to 'Get Ready' to learn.
More Details
---
Student Calendar Book - Created with fellow kindergarten teacher and presenter Kim Adsit, this is an all inclusive calendar book that includes not only the recording pages to make the Student Calendar Books, but also extensive directions, questions and additional activities for each page. This will truly take your calendar time to the next level as you teach a wide variety of math standards and develop critical thinkers.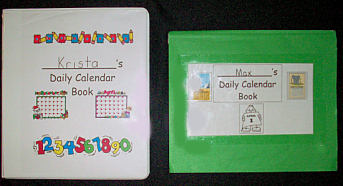 ---
Alphabet Emergent Readers - Introduction of High Frequency Words.
This pack contains 26 emergent reader books, one for every letter of the alphabet. The books are 6 pages long. Each book focuses on a new high frequency word and a letter of the alphabet. The high frequency words get more difficult and they are reviewed in later books. Your students will love to read these books to their friends. The books are printed double on one page to save you time collating and stapling, too! They have been revised in 2014 to have Melonheadz Clipart. They can be found at Click Here. $20

Click Here to See Alphabetical Letter Introduction Word Order.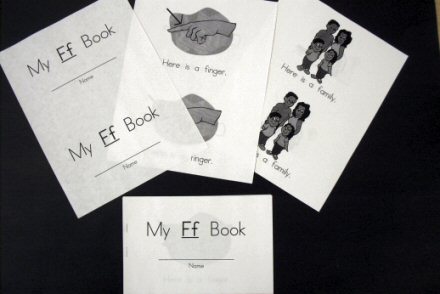 ---
---
Write the Room - Make Write the Room easy with the Write the Room Alphabet Book.
Each page has 8 spaces for children to write words they find in the room that start with each letter of the alphabet. There are even spaces for the children to put stickers when they have found the words. The challenge is to find 8. As my students say, "We just love Write the Room." A seasonal Write the Room blackline is also included for every month. Check out my new versions of Write the Room. I now have a PreK-K version and a K-1 version. With the K-1 version the students not only have to copy words from the room, but they have to write a sentence using one of the words they found. They can be found at: CLICK HERE and CLICK HERE.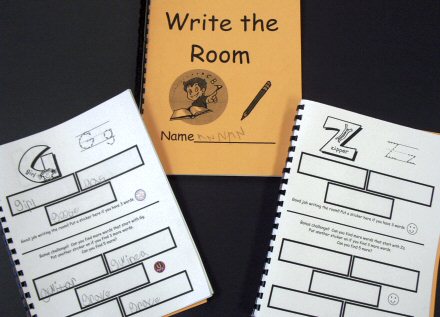 ---
ABC Book - The ABC Book is a blackline pack that I have available to purchase. I bind the pages together in a book. I run the cover on colored cardstock. I do a letter a week, so every week the kids have to find the letter we are studying in their book. They have to draw 2 pictures that start with that letter and also sound out those words using inventive spelling. At first it was very difficult, but now the kids can do it easily and it makes a great center. They color in the letter on the cover when they are done. I have redone by ABC Book as well. I now have graphics to help the students come up with ideas of words to phonetical spell. It can be found at: CLICK HERE.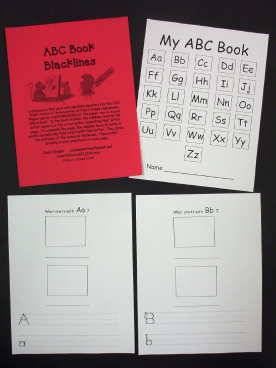 ---
Sound Spelling and Syllable Counting Sheets -Contained in this pack are the sound spelling sheets for the 26 letters of the alphabet. Each letter sheet has 6 words that the children should stretch out and spell phonetically. It also provides a place to write how many beats (claps) are in each word. I have redone the packet in 2013 to have the syllable counting first and I used all of Melonheadz adorable clipart. It can be found at: CLICK HERE.
---
It's In the Bag - Directions for over 30 Take-home activities - Contained in this pack are over 30 ideas for take-home activities for K-1 students. The supplies needed for each activity are listed in the beginning of the pack. For each activity, the direction sheet for parents is included. If there is a student response sheet needed, that is also included.

Packet is available to purchase at Teachers Pay Teachers
Click Here
---
Beginning of the Year Newsletters - Samples of newsletters, sub procedures, lesson plans and Parent Volunteer Handbook - Contained in this pack are many different newsletters that are sent home at the beginning of the year in a kindergarten classroom. Included is a scavenger hunt list, procedure and supply newsletter, snack procedure, discipline procedure and many others. Also included is a parent volunteer training handbook.
---
Alphabet Homework Weekly - Homework Activities including printing practice and choice of 3 activities - Contained in this pack are alphabet homework activities. For each letter of the alphabet you will find capital and lowercase manuscript printing practice. Three activities to choose from and a suggested list of books to read and songs to sing. A letter of introduction for parents and an individual sticker tracking sheet for students is also included.

Product Available on TPT.

In 2013 I redid the homework pack to include clipart.
---
Sing Little Children Sing CD - Recording with Dr. Jean Feldman Christian Sunday School Songs including Jesus Loves Me, Ten Commandments and If You Love the Lord
---